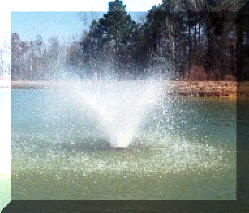 Air Racer Aerators
Oxygen depletion is a common cause of fish kills in ponds. This occurs most often in the summer months of June, July, and August when hot temperatures are most common. The water's carrying capacity of oxygen decreases as the temperature increases. Other factors such as cloudy days, heavy rains, and decaying organic matter can cause oxygen depletion throughout the year. Fish kills also occur when ammonia and other gasses such as carbon dioxide, methane, and hydrogen sulfide build up to lethal levels in your pond.
Warning Signs of Low Oxygen Include:
Fish swimming at the surface and gulping for air.
Fish not eating feed.
Rapid water color change from green to brown.

The Air Racer Aerator, by means of its rapidly revolving propeller, pumps a large column of water and has a shearing effect, breaking the column into micro-droplets which releases harmful gasses and adds life-giving oxygen to your pond. Higher dissolved oxygen levels and low levels of ammonia and other harmful gasses can mean greater yields of fish with increased growth and decreased susceptibility to disease and stress.
The Air Racer comes complete with everything you need to start rejuvenating your pond!
Features Include:
Marine grade aluminum frame

Built-in flotation

Stainless steel hardware

110 volt

, 1/2 hp

electric motor

50 ft. waterproof electrical cord with plug

Suction screen propeller guard

Two 50 ft. anchoring ropes

1 year warranty from date of purchase on motor and frame

30 day warranty on propeller